Top Trumps Guardians of the Galaxy RRP £8.00 - SEPTEMBER 2023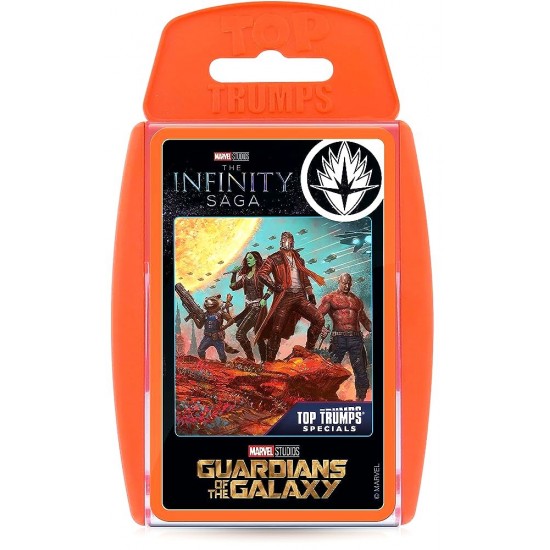 Top Trumps Guardians of the Galaxy RRP £8.00 - SEPTEMBER 2023
Top Trumps Guardians of the Galaxy
Hang up your quad blaster and stow away those headphones for an interplanetary journey with this new edition of Top Trumps.
Join the Guardians on their adventures throughout the Infinity War phase of the MCU in this stunning new Marvel edition of the classic competitive card game as you battle it out with thirty characters from the Guardians of the Galaxy universe. Rocket Racoon, Baby Groot, Gamora and Drax all appear, competing in categories such as 'Appearance', 'Strength', 'Humour' and 'Technology'. Choose the best stat from each card to outsmart your opponents and take their cards for your own! Will Thor's strength prevail or will Nebula's tech stop the god of thunder in his tracks? Does Yondu make more appearances than Ronan and how does Red Skull fare against Abilisk? Does Thanos come top of all the rankings and Is Star-Lord really as good as he thinks? Perhaps Ego, the living planet, will quash them all!
Choose between your favourite heroes and the villains they face off against, strap yourself in and find out who really is Top Trumps!
BARCODE: 5036905052979